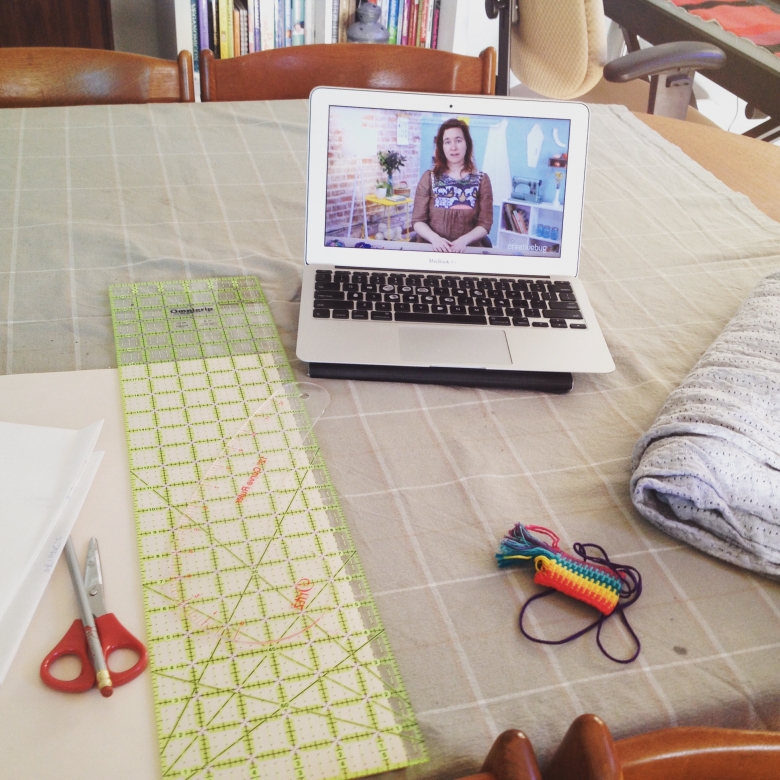 A bunch of brave sewists joined together to start off 2016 with a really fun sew-along! It was really more of a "group sew" since we were all making slightly different self-drafted patterns while following Cal Patch's Creativebug "Pattern Drafting with Knits" class. We made it a casual work-at-your-own-speed sew-along, as some people made their first self drafted garment ever, while others cranked out multiples tweaking their patterns more quickly...there was a LOT of experimenting going on, and it was refreshing to be in "learning" mode more than "production" mode for a change. Having such an enthusiastic and supportive group made tackling a slightly intimidating topic a joy, so thanks again to everyone who joined in, and to Cal who checked in regularly to provide encouragement and help when we had more challenging questions! 
We focused on Part 1 of the class for January, which is drafting a pattern to use for t-shirts and dresses, so that's what all the finished projects are from so far. A few of us are continuing onto Part 2, modifying that pattern into a hoodie, this month. And thanks to the magic of the internet, if you decide to do the class yourself later on, the Textillia forums are always here to come chat with others who've already taken it! The first week of January was mostly focused on drafting the base pattern itself... 
And then the sewing began! Without further ado, here are some of the highlights of our finished projects from the sew-along. Some of them have also been uploaded as finished projects with more details and photos, which you can browse via the pattern's projects page or by clicking on the images below.
We made a couple instant favorite T-shirts...

But really, it was all about the dresses!
We made comfy T-shirt dresses and A-line dresses, and the gathered skirt dress that Cal teaches in the class video...
In only a few weeks, we all had a custom pattern made exactly for our specific measurements, that we could modify to make several different comfy wardrobe staples. And the skills to sew with knits - how amazing! To see a whole bunch more of the in-progress and finished photos, have a peek at the #calpatchsewalong tag on Instagram. Nice work everyone!