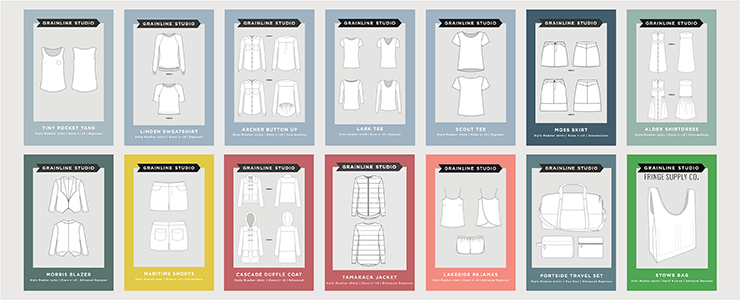 About
Welcome to Grainline Studio! We are a pattern shop featuring modern, fashion-forward patterns that will fit seamlessly into your wardrobe. All of the patterns are drafted with a contemporary fit and we take extra care to provide clearly illustrated instructions that are easy to follow to ensure a professional finish. You can take comfort in knowing that all of the patterns are drafted and executed by a professionally trained team with ease of use in mind.
Grainline Studio originally began as the personal blog of Jennifer Beeman, the designer and patternmaker behind the patterns. It expanded in mid 2011 with our first pattern, the Tiny Pocket Tank, after receiving numerous requests for the patterns of the garments she was creating for herself. Jennifer studied fashion design at Columbia College where she focused on patternmaking and technical design and began working as a patternmaker just prior to graduating until recently when she stopped to focus on Grainline Studio full time.
Jennifer was recently interviewed for American Public Media's Marketplace about her job as a patternmaker and how she's trying to keep it relevant in today's world of fast fashion. She also teaches at Columbia College Chicago in the Fashion Department.